Join us for an intimate evening with living legend Jimmy Webb, hailed by Rolling Stone as one of the top 50 songwriters of all time.
His cross-genre hits include Glen Campbell's 'Wichita Lineman' and 'By the Time I Get to Phoenix', his Grammy-Winning 'Up, Up and Away', and the charts-topping 'MacArthur Park' – a hit with Richard Harris and Donna Summer.
Webb will play the music that made him America's Songwriter and beguile with the stories behind his hits for artists like Glen Campbell, Nina Simone, Art Garfunkel, Linda Ronstadt, Frank Sinatra, and Kanye West. Known worldwide as a master of his trade, Webb is also the only artist ever to have received Grammy Awards for music, lyrics and orchestration.
Don't miss this up-close-and-personal event, as Webb performs his music and shares the often funny and always insightful stories from his illustrious career.
Recommended age: 14+
Rescheduled from 1 June 2020 & 4 June 2021
2022-05-27 19:30:00 2022-05-27 21:30:00 Europe/London An Evening with Jimmy Webb - Cadogan Hall or one of the supported venues. Please contact the box office for more details.
Ticket Information
£60, £50, £42.50, £39.50, £35
All orders are subject to a transaction fee, except if made in person. See booking information for details, payment methods and delivery options.
Book Now
View Seating Plan
Future events in this series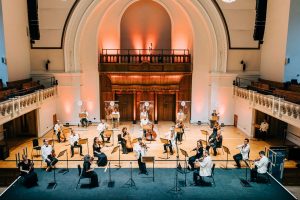 Back to Live
We are thrilled to have reopened our doors again for performances of musical theatre, orchestral and choral music, opera, pop, jazz and more, reuniting live music with audiences in our safe, secure and comfortable auditorium.
Read more about this series