Over three concerts Jonathan Gee, Tony Kofi and very special guest Charles Tolliver lead an all-star ensemble through the complete works of a jazz genius.
Thelonious Sphere Monk remains a seminal figure in the evolution of contemporary jazz – a wayward genius and force of nature whose spiky, instantly recognisable piano style and writing refer back to jazz masters like Jelly Roll Morton and Duke Ellington – but whose vision was of a future seen through the prism of a bebop revolution in the '40s where Monk himself played a key role.
Monk is one of the elite jazz composers – pianist Jonathan Gee and saxophonist Tony Kofi are steeped in the maestro's repertoire, and re-visit a previously landmark Festival project, playing all Monk's songs in a day, with three concerts, each inspired by a classic Monk album, as well as recalling collaborations with the likes of Sonny Rollins, John Coltrane and Gerry Mulligan, with an ensemble packed with British jazz talent, including Cleveland Watkiss, Byron Wallen, Jason Yarde, Jean Toussaint, Jim Rattigan, Andy Grappy, Ben Hazelton and Rod Youngs.
The icing on the cake is a re-creation of Monk's milestone 1959 Town Hall concert with music written for a ten-piece band, led by the charismatic trumpeter, arranger and founder of Strata East Records Charles Tolliver, who attended the original concert as a teenager, and who has re-constructed the original music from his treasured, original LP. Tolliver's restaging responds in breathtaking form the tensions and energies that made the first performance so electric – a combination of individual and group interaction, infused with Monk's fusion of African-American rhythms, solo virtuosity and orchestral sweep.
Concert 1 – 2pm: Brilliant Corners
Concert 2 – 4.30pm: Monk on Blue Note
Concert 3 – 7.30pm: Monk at Town Hall 1959 with Charles Tolliver
Ticket Information
£12.50 (unreserved seating)
Book all three 'Thelonious Monk at 100' concerts for £36 (limited availability)
All orders are subject to a transaction fee, except if made in person. See booking information for details, payment methods and delivery options.
This event has passed.
Future events in this series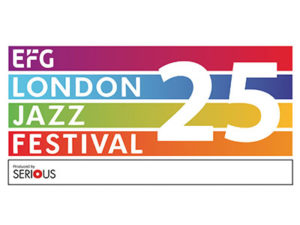 EFG London Jazz Festival 2017
'A dazzling display across the musical spectrum' ★★★★★ (The Guardian)
The EFG London Jazz Festival presents 10 days packed full of world-class artists and emerging stars as it celebrates 25 years in 2017. The Festival has a reputation for bringing the best and freshest music to a massive and ever-growing audience in various venues across the capital, with a wide-ranging programme of concerts, commissions, club events, talks, and an expansive learning and participation programme.
Read more about this series