In a career that stretches back to the '60s, iconic jazz vocalist Dee Dee Bridgewater has stood shoulder to shoulder with many of music's greats like Dizzy Gillespie and Sonny Rollins. She brings the sounds of her new album, Memphis… Yes, I'm Ready, inspired by the sound of Memphis R&B from the mid-late 1960s. Think Gladys Knight, Otis Redding, Al Green and Sam Cooke.
'Dee Dee Bridgewater has a technique and musicality that bests most performers of her generation.' (The Guardian)
Alto-saxophone band leader Camilla George formed her Quartet in 2014, rising through the ranks of Tomorrow's Warriors, the Nu Civilisation Orchestra, Jazz Jamaica and Courtney Pine's Venus Warriors band. Her African roots and Caribbean ancestry shine through in a mix of jazz, calypso, afrobeat and hard bop with both precision and playfulness.
'George's compositions possess memorable melodies and strong grooves in equal measure and her music is eminently accessible with a youthful energy that is likely to give it considerable across the board appeal. It's an essentially acoustic quartet capable of reaching out to dyed in the wool provincial jazz fans as well as to younger London audiences'
(The Jazz Mann)
This show is part of the EFG Excellence Series.
Ticket Information
All orders are subject to a transaction fee, except if made in person. See booking information for details, payment methods and delivery options.
This event has passed.
Future events in this series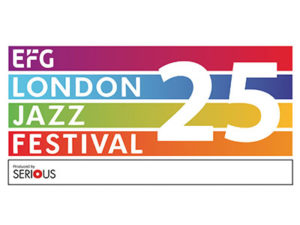 EFG London Jazz Festival 2017
'A dazzling display across the musical spectrum' ★★★★★ (The Guardian)
The EFG London Jazz Festival presents 10 days packed full of world-class artists and emerging stars as it celebrates 25 years in 2017. The Festival has a reputation for bringing the best and freshest music to a massive and ever-growing audience in various venues across the capital, with a wide-ranging programme of concerts, commissions, club events, talks, and an expansive learning and participation programme.
Read more about this series