Voted the UK's best tribute in 2020, this award-winning celebration of Frankie Valli and the Four Seasons proudly features West End leading men from hit musicals such as Jersey Boys.
Paying a charismatic tribute to Frankie Valli, his life, his music and his legacy, Frankie's Guys are back (sanitiser in hand) ready for 2021 with a fresh take on their award-winning show. Featuring unrivalled vocals, slick moves and side-splitting comedy (they think they're really funny), this is a night out at the theatre you don't want to miss!
Taking you back to the era of live music – effortlessly recreated by their trusty (and cheeky) band – get ready to sing along to over 20 timeless classics such as 'Big Girls Don't Cry', 'Walk Like A Man', 'Sherry', 'Oh What A Night!', and many more. You'll be dancing in the aisles before you know it!
Recommended age: 7+
(Rescheduled from 19 September 2020 & 11 September 2021.)
Duration: approx. 2 hours (incl. interval)
2022-04-02 19:30:00 2022-04-02 21:30:00 Europe/London Frankie's Guys A Celebration of Frankie Valli and the Four Seasons Cadogan Hall or one of the supported venues. Please contact the box office for more details.
Future events in this series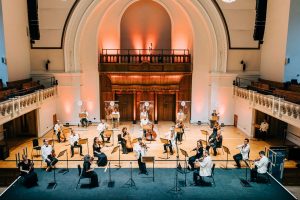 Back to Live
We are thrilled to have reopened our doors again for performances of musical theatre, orchestral and choral music, opera, pop, jazz and more, reuniting live music with audiences in our safe, secure and comfortable auditorium.
Read more about this series