This performance has been rescheduled to Monday 12 July 2021.
Existing tickets for the Saturday 16 May 2020 and Saturday 29 May 2021 dates will remain valid for this rescheduled performance.
We will not be reissuing tickets with the new performance date on them to bookers of the original date. Instead, your original tickets will remain valid unless you decide to return them. Please retain your tickets for use on the new performance date.
If you do not have your tickets, please rest assured we have a record of your booking on our box office system. If you have any questions, please call our box office on 020 7730 4500.
If you are unable to make the new date, please contact your original point of sale and a member of the team will assist you.
We are doing our utmost to support the national effort in reducing the spread of coronavirus and the health and well-being of all our visitors, staff members and visiting performers is our number one priority. Thank you for your continued support and we look forward to welcoming you back, very soon.
---
Old friends and longtime musical partners, guitarist John Scofield and his Trio mates –bassist Steve Swallow and drummer Bill Stewart – are aglow with camaraderie and spontaneous invention. The three throw off sparks as they bob, dip and weave through a tightly knit set of jazz standards and savvy original compositions.
More than just a collection of tunes, the Trio plays music that embodies the spirit that has kept jazz vigorous and visceral since its birth.
2021-07-12 19:30:00 2021-07-12 21:30:00 Europe/London John Scofield Trio Rescheduled from 16 May 2020 & 29 May 2021 Cadogan Hall or one of the supported venues. Please contact the box office for more details.
Ticket Information
£75 (Meet & Greet*), £37.50, £32.50, £27.50
*VIP tickets include a front-row seat and artist 'Meet & Greet' (limited availability; ticket holders will be provided with timings nearer the concert date)
All orders are subject to a transaction fee, except if made in person. See booking information for details, payment methods and delivery options.
Book Now
View Seating Plan
Future events in this series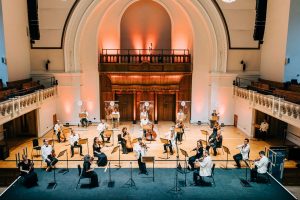 Back to Live
We'll be opening our doors again to audiences this spring for socially-distanced performances of musical theatre, orchestral and choral music, opera, pop, jazz and more.
Read more about this series