Performers
Kate Williams piano
Oli Hayhurst double bass
David Ingamells drums
John Garner violin
Marie Schreer violin
Francis Gallagher viola
Sergio Serra cello
This is a unique collaboration between acclaimed jazz pianist/composer Kate Williams and the Guastalla String Quartet, with repertoire including material by Bill Evans, Cole Porter and A.C. Jobim as well as originals by Williams. The style of writing and arranging exploits the varied sound pallet of both string quartet and jazz trio, creating contrasts between the improvised and the notated, and between sustained textures and strong grooves. As with her previous arranging ventures, Kate is seeking a fully integrated approach (this is definitely not a jazz trio with string accompaniment!), as this line-up provides a wealth of interesting instrumental sonorities.
The project was launched in summer 2016 with a CD release and a UK tour supported by Arts Council England. Both the CD and live performances have received glowing reviews, with the CD rated No. 2 in MOJO magazine's top jazz albums of 2016.
"A sumptuous jazz piano trio plus string quartet set from the consistently thoughtful and inventive Kate Williams."
(MOJO magazine ★★★★)
"…crisp, incisive and totally at one with the rhythmic ebb and flow."
(The Observer ★★★★)
"It was one of those rare concerts you wished would not end."
(The Jazz Breakfast)
Duration: approx. 2 hours (incl. 30 min interval)
Ticket Information
This event has passed.
Future events in this series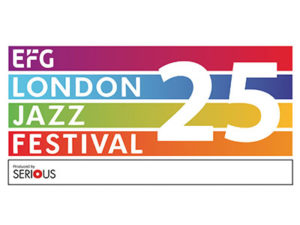 EFG London Jazz Festival 2017
'A dazzling display across the musical spectrum' ★★★★★ (The Guardian)
The EFG London Jazz Festival presents 10 days packed full of world-class artists and emerging stars as it celebrates 25 years in 2017. The Festival has a reputation for bringing the best and freshest music to a massive and ever-growing audience in various venues across the capital, with a wide-ranging programme of concerts, commissions, club events, talks, and an expansive learning and participation programme.
Read more about this series