Marking the recent release of his long-awaited new live album recorded on an exhilarating evening at the Pizza Express Jazz Club Soho, singer/songwriter Kevin Fitzsimmons and his top-notch jazz musicians perform their album, Working Day & Night, in its entirety. So expect a vibrant programme from an artist who has managed to create a genuinely unique approach to male jazz vocals.
Standards restyled include Old Devil Moon, It Never Entered My Mind and Here's that Rainy Day. The album's title track – Michael Jackson's Working Day & Night – is perfectly recast as a swing gem; others include an up-tempo translation of Leon Russell's This Masquerade & Sting's Every Breath You Take, alongside originals like the soul-blues groove of Don't You Dare Get Bored with Me, written with UK saxman Derek Nash, and the rhythmic Latin fizz of Cuban Alibi. Completing the set are new jazz re-stylings and popular tracks from his previous album by likes of Strayhorn, Jobim, Legrand, Ellington and Porter.
Praised by jazz critics for his naturally swinging vocals, elastic phrasing and engaging, highly personable stage presence, London born jazz singer/lyricist/songwriter Kevin Fitzsimmons has become one of the most original and creative singers on the UK mainstream jazz scene, well-known for his insightful interpretations of the standards, inspired jazz re-stylings of carefully chosen soul/pop/rock classics and distinctive original songs. A long-time fan of Mark Murphy, he has enjoyed sell out shows at Ronnie Scott's, most of London's main jazz clubs, venues nationwide and in Europe, and has played several jazz festivals.
His self-produced debut album, Show Me the Way, released in 2013, received considerable critical acclaim and airplay, and he's had one of his live concerts broadcast on Jazz FM.In addition, Kevin's distinctive vocals have featured in several TV and radio commercials in the UK and Europe and he also stars in a Big Band concert based on Sinatra's iconic output on the Capitol label. Furthermore, his unstoppably swinging band, described by Jazzwise as "the cream of UK straight-ahead jazz musicians, solid and groove aplenty", keeps the audience on the edge of their seats: award-winning pianist Leon Greening ("catch him when you can" – Jazz Journal International), upcoming bassist Adam King (2015 Young Jazz Musician Of The Year), and rising star young drummer Lloyd Haines.
"Unique interpretations, a brilliant gig" (More Opinions, Jazz Nights)
"Impresses greatly" (UK VIBE, Jazz Culture Online)
"Talent, originality, has that rare vocal skill of total control of all he does"(Grapevine Magazine)
Ticket Information
This event has passed.
Future events in this series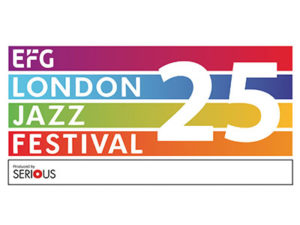 EFG London Jazz Festival 2017
'A dazzling display across the musical spectrum' ★★★★★ (The Guardian)
The EFG London Jazz Festival presents 10 days packed full of world-class artists and emerging stars as it celebrates 25 years in 2017. The Festival has a reputation for bringing the best and freshest music to a massive and ever-growing audience in various venues across the capital, with a wide-ranging programme of concerts, commissions, club events, talks, and an expansive learning and participation programme.
Read more about this series