Performers
Mark Lockheart saxophones/bass clarinet
Jasper Høiby double bass
Liam Noble piano
This sophisticated, genre-bending trio performs music from its new CD Instinct, along with repertoire from its previous album The Day I Had Everything on Edition Records. Driven by a commitment to in-the-moment improvisation and collective musical banter, the band's idiomatic sweep through bluegrass, tango, abstract grooves and shimmering landscapes is delivered with flair and playful abandon. Three distinctive compositional voices, all hugely influential in the London scene, combine to form a unique sounding group. This Cadogan Hall performance is part of a major UK autumn tour.
"The pleasure of this trio in their close relationship is infectiously evident all over the set." (The Guardian)
"This all-star trio delivers meticulously crafted performances, a cliché-free collection and a work of trenchant individuality." (The Arts Desk)
Duration: approx. 2 hours (incl. 30 min interval)
Promoted by Cadogan Hall
Ticket Information
All orders are subject to a transaction fee, except if made in person. See booking information for details, payment methods and delivery options.
This event has passed.
Future events in this series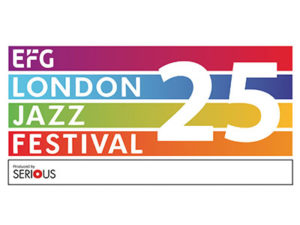 EFG London Jazz Festival 2017
'A dazzling display across the musical spectrum' ★★★★★ (The Guardian)
The EFG London Jazz Festival presents 10 days packed full of world-class artists and emerging stars as it celebrates 25 years in 2017. The Festival has a reputation for bringing the best and freshest music to a massive and ever-growing audience in various venues across the capital, with a wide-ranging programme of concerts, commissions, club events, talks, and an expansive learning and participation programme.
Read more about this series