Miles Davis made many stand-out records in his long career. 1959's Kind of Blue is arguably his finest – a masterly blend of small band composition and jazz improvisation of the very highest order, it stands today as the biggest selling – and perhaps best-loved – jazz recording of the post-war era. Guy Barker's fascination with Miles' music is transformed into a very personal insight into the emotional depth of Miles' original recording, re-created for orchestra and big band by an artist with a rare command of large-scale instrumental resources – and whose ability to combine orchestral sweep with swing, and the contributions of the big band's string of fine soloists, is unparalleled.
Alongside Barker's long-established big band, packed with some of the most distinctive soloists in UK and European jazz, the Southbank Sinfonia brings a very special character to the occasion – an orchestra of outstanding young professionals described by The Timesas 'a dashing ensemble who play with exhilarating fizz, exactness and stamina'.
No stranger to EFG London Jazz Festival audiences from a decade of presiding over the Festival's opening night gala, Jazz Voice, Guy Barker's career has encompassed work with the likes of Paloma Faith, Quincy Jones, Frank Sinatra, Mel Tormé, Sting, Alison Balsom, Anthony Minghella and countless others across a vast array of genres – and he has carved a niche as one of the most inventive and respected jazz composer/arrangers on the planet. He is also a terrific trumpeter.
Please note start time.
(Image courtesy of Sony)
Ticket Information
£25, £20, £15
All orders are subject to a transaction fee, except if made in person. See booking information for details, payment methods and delivery options.
This event has passed.
Future events in this series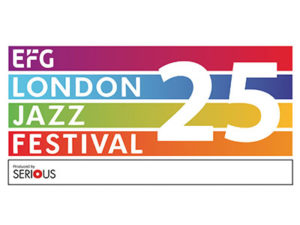 EFG London Jazz Festival 2017
'A dazzling display across the musical spectrum' ★★★★★ (The Guardian)
The EFG London Jazz Festival presents 10 days packed full of world-class artists and emerging stars as it celebrates 25 years in 2017. The Festival has a reputation for bringing the best and freshest music to a massive and ever-growing audience in various venues across the capital, with a wide-ranging programme of concerts, commissions, club events, talks, and an expansive learning and participation programme.
Read more about this series