Programme
Tchaikovsky Gremin's Aria from Eugene Onegin
Tchaikovsky Herman's Aria, 'Chto nasha zhizn', from The Queen of Spades
Verdi Philip's Aria from Don Carlos
Bizet Entrance and Song of the Toreador from Carmen
Mozart Martern aller Arten from Die Entführung aus dem Serail
Borodin Medlenno den ugasal from Prince Igor
Rossini Bel raggio lusinghier from Semiramide
Bulakhov Gori, gori, moya zvezda (Shine,shine, my star)
Evgeniy Yuryev V lunnom siyanie
Trad. Ochi chernye
Arensky Variations on a Theme by Tchaikovsky
Performers
Oleg Pogudin tenor
Askar Abrdrazakov bass
Mikhail Kazinik violin
Alexander Naumenko tenor
Anna Gorbachyova-Ogilvie soprano
Evgeniy Yuzhin tenor
Maria Veretenina soprano
Albert Zhalilov baritone
Alexander Kagan piano
Rustam Khanmurzin piano
Yuri Zhislin violin
David Serero baritone/presenter
Camerata Tchaikovsky chamber orchestra
Oleg Soldatov conductor
In light of the coronavirus outbreak, this performance has been rescheduled to Sunday 24 April 2022.
Existing tickets for the original 26 April & 6 September 2020 and 25 April 2021 performances will remain valid for this rescheduled performance date.
We will not be reissuing tickets with the new performance date on them to bookers of the original date. Instead, your original tickets will remain valid unless you decide to return them. Please retain your tickets for use on the new performance date.
If you do not have your tickets, please rest assured we have a record of your booking on our box office system. If you have any questions, please call our box office on 020 7730 4500.
If you are unable to make the new date, please contact your original point of sale and a member of the team will assist you.
We are doing our utmost to support the national effort in reducing the spread of coronavirus and the health and well-being of all our visitors, staff members and visiting performers is our number one priority. Thank you for your continued support and we look forward to welcoming you back, very soon.
---
Enjoy a much-anticipated, star-studded event featuring guest opera singers who have performed at English National Opera, the Mariinsky and Bolshoi Theatres, Metropolitan Opera, and more.
Enjoy around 40 much-loved arias and songs by Tchaikovsky, Rachmaninov, Verdi, Mozart, Rossini and other great composers sung by celebrated artists and rising stars, finalists of the 2020 international vocal contest. The finale is chaired by Larisa Gergieva, Artistic Director of the Mariinsky Theatre Academy.
The event includes Jubilee Laureate Parade performances and the premiere screening of a moving film tribute to the legendary Russian singer Sergey Zakharov, accompanied by a live performance, as well as the Song Festival award ceremony.
It promises to be a delightful show for music lovers.
NB. Please note start time.
Supported by the Mariinsky Theatre and the Academy of Young Opera singers.
Duration: 4 hours (incl. interval)
2022-04-24 16:00:00 2022-04-24 20:00:00 Europe/London Russian Opera Gala & 10th UK Russian Song Festival Rescheduled from 25 April 2021 Cadogan Hall or one of the supported venues. Please contact the box office for more details.
Ticket Information
£65, £55, £45, £35, £25, £19
Concessions: £2 off
All orders are subject to a transaction fee, except if made in person. See booking information for details, payment methods and delivery options.
Book Now
View Seating Plan
ENCORE Membership Discount
ENCORE Members: £5 off top two prices
Join Today
Future events in this series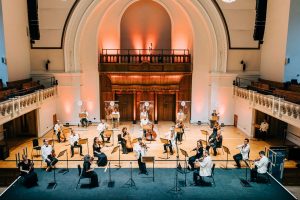 Back to Live
We'll be opening our doors again to audiences this spring for socially-distanced performances of musical theatre, orchestral and choral music, opera, pop, jazz and more.
Read more about this series