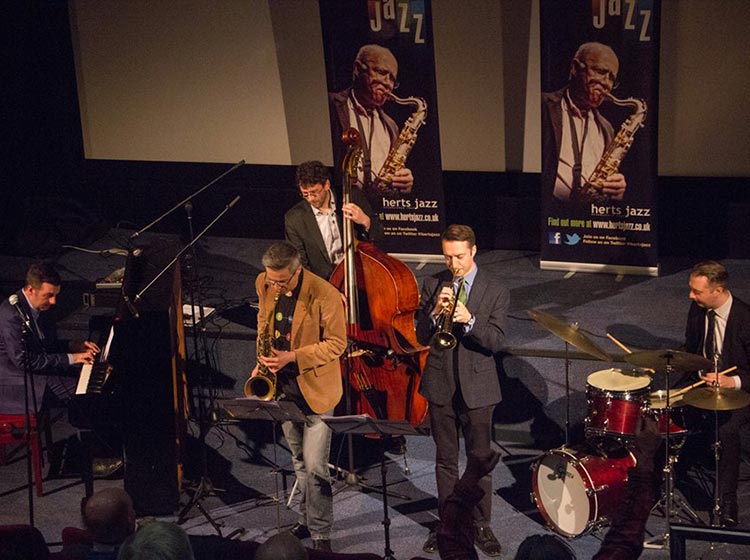 The Fishwick Brothers Quintet play the music of Cedar Walton & Duke Pearson
Performers
Steve Fishwick trumpet
Dave O'Higgins tenor saxophone
Rob Barron piano
Dario De Lecce bass
Matt Fishwick drums
This new project was formed to perform the timeless compositions of two pianist/composers associated with the Hard Bop era of jazz and the Blue Note Record label: Cedar Walton and Duke Pearson. Although some of these tunes have become jazz standards (Walton's Bolivia and Ugetsu, and Pearson's Jeanine for example) there is a great wealth of material by these composers that is very rarely played. This project aims to redress the balance, bring these tunes to a new audience and generally celebrate the work of these great jazz artists.
Steve and Matt recorded with Walton in 2007, Matt was mentored by Bob Cranshaw (Duke Pearson's bass player) during the five years that he lived in New York and Rob has studied with David Hazeltine (Cedar Walton's mentor), so there is a discernible link to these performers and the composers of this music.
A great afternoon of swinging tunes from the hard bop era played by five of London's top straight-ahead jazz musicians.
Doors open 1.30pm.
Duration: 2 hours (incl. interval)
Ticket Information
No need to book – just turn up! (Please note seating is very limited and not guaranteed)
All orders are subject to a transaction fee, except if made in person. See booking information for details, payment methods and delivery options.
This event has passed.
Future events in this series