Related Links
Flavio Correa leader, vocals, percussion
Eikel Venegas trumpet
John Carlos Ayarde guitar
From the salons of pre-revolution Havana, where the sweet smell of cigars lingered and the aged rum flowed, The Sugar Kings present authentic sounds of Son Montuno, Guaracha, Salsa, Bolero, Cha Cha Cha, Mambo and Afro-Cuban jazz, served with a ray of Cuban sunshine!
Bandleader Flavio Correa is a Cuban percussionist and singer based in London. He grew up in Centro Havana surrounded by Cuban musical giants like Chucho Valdez. He specialises in Latin percussion and Afro-Cuban drumming, Cuban rumba and Afro-Cuban folkloric music.
Flavio has composed music for and appeared in the BBC production of The Hour starring Dominic West and Ben Wishaw, and ITV's Auf Weidersehen, Pet.
He currently tours with international Cuban violinist Omar Puente.
Inspired by the revival of traditional Cuban music through the amazing Buena Vista Social Club, Flavio formed his band The Sugar Kings, naming them after the famous Havana baseball team of the pre-revolution days when the Cuban capital was the exotic playground of the rich, brimming with notorious gangsters and Hollywood stars
Trumpet player Eikel Venegas hails from Las Tunas in central-eastern Cuba. He began his professional career as a teenager when he joined the army band as a trumpet player. Since moving to London he has become a prolific composer, producer and educator.
Guitarist John Carlos Ayarde hails from Guantamo province, Cuba, famous for its traditional Changüi, Cuban roots music of the early 19th century combining Spanish and African elements. John recently relocated from the Middle East where he was teaching and performing.
Duration: 2 hours (incl. 30-minute interval)
Related Links
Flavio Correa leader, vocals, percussion
Eikel Venegas trumpet
John Carlos Ayarde guitar
2022-08-08 12:00:00 2022-08-08 14:30:00 Europe/London The Sugar Kings Trio - Cadogan Hall or one of the supported venues. Please contact the box office for more details.
Ticket Information
Seated ticket: £5
Standing: free but ticketed
All orders are subject to a transaction fee, except if made in person. See booking information for details, payment methods and delivery options.
Book Now
Future events in this series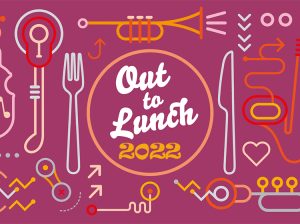 Out to Lunch 2022
Our lunchtime jazz series returns with an amazing line-up of artists including Sam Braysher, Sara Dowling, Kate Williams, ISQ, Daniel Casimir, Mátyás Gayer, The Sugar Kings Trio, Ronan Perrett & Derek Nash.
Read more about this series