The meeting of Polish trumpeter Tomasz Stańko – a seminal figure in European jazz since the 1960s – and the cutting-edge New York trio of stellar pianist David Virelles, bassist Reuben Rogers and drummer Gerald Cleaver, produces music that combines darkly atmospheric soundscapes and surging bursts of rhythm, re-visiting London following the release of a brand new ECM recording, December Avenue.
'Brilliant chemistry' (Downbeat)
Saxophonist Duncan Eagles pilots his ever-evolving band Partikelthrough its most successful year so far, with extensive touring and a fourth and most ambitious album to date, playing 'brave and imaginative compositions enhanced by bravura performance' (All About Jazz). Since their recording debut in 2012, Partikel's sound has climbed to new heights – their latest project Counteraction sees the core acoustic trio enhanced by subtle electronic shades and the textures of *Ant Law*'s guitar.
'A continuous musical narrative with many detours exceeding all expectation' (JazzTheTik ★★★★★)
'One of the most pro-active and forward thinking units on the UK scene today' (Jazz Views)
Ticket Information
All orders are subject to a transaction fee, except if made in person. See booking information for details, payment methods and delivery options.
This event has passed.
Future events in this series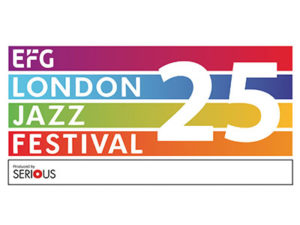 EFG London Jazz Festival 2017
'A dazzling display across the musical spectrum' ★★★★★ (The Guardian)
The EFG London Jazz Festival presents 10 days packed full of world-class artists and emerging stars as it celebrates 25 years in 2017. The Festival has a reputation for bringing the best and freshest music to a massive and ever-growing audience in various venues across the capital, with a wide-ranging programme of concerts, commissions, club events, talks, and an expansive learning and participation programme.
Read more about this series