Programme
Beethoven Egmont Overture
Beethoven Triple Concerto in C major*
Beethoven Symphony No. 7
Performers
Pinchas Zukerman conductor/violin
Hans Graf conductor*
Amanda Forsyth cello
Angela Cheng piano
John Suchet presenter
Royal Philharmonic Orchestra
We regret to inform you that this performance has been cancelled. We are doing our utmost to support the national effort in reducing the spread of coronavirus and the health and well-being of all our visitors, staff members and visiting performers is our number one priority.
Ticket holders are fully covered for the full value of their tickets and will be contacted shortly. Thank you for your continued support and we look forward to welcoming you on future occasions.
A note from the Royal Philharmonic Orchestra:
"Following the Government's announcement encouraging social distancing, the Royal Philharmonic Orchestra (RPO) will cease its concert programme until the end of June 2020. Given the health risks presented by the spread of the coronavirus pandemic, the Royal Philharmonic Orchestra is acutely aware of the need to protect the health of concert-goers, venue staff and the ensemble itself.
With millions of people self-isolating and working from home, the RPO will soon be introducing a comprehensive 'RPO At Home' digital programme that is intended to enrich people's home routines, to help lift spirits during these unprecedented times.
Please do keep in touch by visiting the Orchestra's website and social media channels, where you can find videos, blogs and Podcasts."
---
In the finale of Pinchas Zukerman's celebration of Beethoven's legacy, the Zukerman Trio and the Royal Philharmonic Orchestra perform a programme of spectacular symphonic power.
In the first half is Beethoven's Triple Concerto, a truly unique adaptation of the genre. The first composer to complete such a concerto for violin, piano and cello, Beethoven sets the stage to allow the soloists to converse in dramatic, animated passages that are embellished by a powerful symphonic accompaniment from the orchestra.
It's hard to overstate the impact that Beethoven's Symphony No. 7 has had on the composer's legacy; the immense energy the Symphony carries is something truly memorable. Wagner's description of the irresistible rhythms in the Vivace and Presto sections as the 'apotheosis of the dance' seems to be no exaggeration when the orchestra launches into a breath-taking pace.
The second movement, Allegretto, remains one of the most famous movements of any of Beethoven's symphonies; opening with a dotted rhythm in the strings that unfolds into a crescendo of immense power as the movement progresses to its awe-inspiring climax.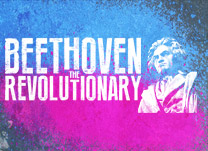 Ticket Information
All orders are subject to a transaction fee, except if made in person. See booking information for details, payment methods and delivery options.
This event has passed.
View Seating Plan
ENCORE Membership Discount
ENCORE Members: £5 off top 3 prices
Join Today
Series Discount
Day Pass and Festival Package tickets available – see series page for details.
Enjoy the afternoon piano recital for just £5 when purchasing your evening orchestral concert. Enter the code DAYPASS when booking.
View Series
Group Discount
Groups of 6+ save up to 35% – call the Box Office on 020 7730 4500 to book
Future events in this series