Programme
Arvo Pärt Da pacem Domine
Byrd Mass for four voices – Kyrie & Gloria
Arvo Pärt Morning star
Byrd Mass for four voices – Credo
Arvo Pärt I am the true vine
Byrd Mass for four voices – Sanctus & Benedictus
Arvo Pärt Most holy Mother of God
Byrd Mass for four voices – Agnus Dei
Gibbons Hosanna to the Son of David
Tavener The tyger
Gibbons O Lord, in thy wrath
Tavener The lamb
Gibbons Lift up your heads
Tavener Funeral Ikos
Gibbons Nunc dimittis (Short Service)
Tavener Love bade me welcome
Gibbons O clap your hands together
Performers
The Cardinall's Musick
Andrew Carwood director
In light of the coronavirus outbreak, this performance has been rescheduled to Thursday 14 October 2021.
Existing tickets for the original 29 April 2020 and 13 April 2021 performances will remain valid for this rescheduled performance date. We will not be reissuing tickets with the new performance date on them to bookers of the original date. Instead, your original tickets will remain valid unless you decide to return them. Please retain your tickets for use on the new performance date.
If you do not have your tickets, please rest assured we have a record of your booking on our box office system. If you have any questions, please call our box office on 020 7730 4500.
If you are unable to make the new date, please contact your original point of sale and a member of the team will assist you.
We are doing our utmost to support the national effort in reducing the spread of coronavirus and the health and well-being of all our visitors, staff members and visiting performers is our number one priority. Thank you for your continued support and we look forward to welcoming you back, very soon.
---
A beautiful programme which sets 16th-century polyphony alongside contemporary minimalism. The mystical minimalists John Tavener and Arvo Pärt are as immersed in their religious feelings as William Byrd and Orlando Gibbons yet they come from very different traditions. Byrd's dark-toned Mass for four voices inspired by Catholic devotion is set against Gibbons' more suave and energetic Anglican writing.
Tavener and Arvo Pärt instead look to the Orthodox traditions of the East. These contemporary writers use a direct and powerful approach, ikon-like in its seeming simplicity but immensely powerful.
'Truly extraordinary.'
The New York Times
2021-10-14 19:30:00 2021-10-14 21:30:00 Europe/London The Cardinall's Musick: Mystics Rescheduled from 29 April 2020 & 13 April 2021 Cadogan Hall or one of the supported venues. Please contact the box office for more details.
ENCORE Membership Discount
ENCORE members pay £32 for top price tickets
Join Today
Group Discount
Group discounts of up to 30% are available – see series page for details
Future events in this series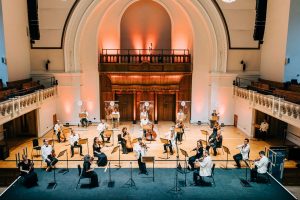 Back to Live
We are thrilled to have reopened our doors again to present a series of socially distanced performances of musical theatre, orchestral and choral music, opera, pop, jazz and more.
Read more about this series