Programme
Williams Star Wars
Herrmann Vertigo Suite
Barry Born Free
Rózsa Spellbound Concerto
Korngold Captain Blood Overture
Williams Schindler's List
Rózsa El Cid Overture
Rózsa The Lost Weekend Suite
Steiner Casablanca Suite
Performers
London Phoenix Orchestra
London Phoenix Orchestra breaks the shackles of lockdown with a gala concert of film music. Celebrate your rediscovered freedom with an evening of escapism featuring all the magic of the silver screen, from a galaxy far, far away to Casablanca.
This concert is in aid of the Snow-Camp charity.
Duration: approx. 2 hours (incl. interval)
2021-06-30 19:30:00 2021-06-30 21:30:00 Europe/London A Night at the Movies London Phoenix Orchestra Cadogan Hall or one of the supported venues. Please contact the box office for more details.
Ticket Information
£25, £20; Students/Under-18s: £18
All orders are subject to a transaction fee, except if made in person. See booking information for details, payment methods and delivery options.
Book Now
View Seating Plan
Future events in this series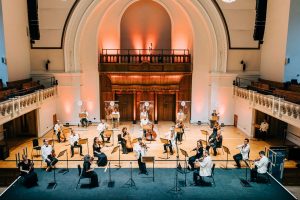 Back to Live
We'll be opening our doors again to audiences this spring for socially-distanced performances of musical theatre, orchestral and choral music, opera, pop, jazz and more.
Read more about this series