An evening of music and laughter – and grumpiness!
Rick's back – and even grumpier than last year! Following 2019's sell-out Christmas tour, keyboard wizard Rick Wakeman embarks on another festive foray around the UK visiting some of the cities he didn't get to the first time around.
Both as a member of YES and as a solo artist, Rick Wakeman is known across the world for his virtuosity, creative flair and wicked sense of humour. A true rock legend, with over 50 million albums sold in five decades, his music continues to reach new generations of fans.
Fans of his solo concerts will already know that they combine spellbinding piano music with side-splitting stories and revealing insights into his lengthy and varied career. New fans should expect an evening of superb musicianship, featuring tracks from last year's release Christmas Portraits – Rick's instrumental arrangements of traditional festive tunes – as well as music from YES, his own solo epics and early Bowie hits, plus fantastic arrangements of Beatles' tunes, and much, much more, interspersed with knockabout (and sometimes bawdy!) humour.
The Not Quite As Grumpy As Last Xmas Tour is guaranteed to round off what has been a stressful year for everyone with an entertaining evening of glorious piano music and hilarious fun.
"It's so difficult to imagine how live music is going to be in the future, but I have to believe that there will be sensible and workable answers to enable us all to enjoy concerts, the theatre and other social events," says Rick. "So, with my positive hat on, I'm looking forward to a new 'Even Grumpier Christmas Show' to hopefully play my part in putting smiles back on all our faces and prepare us for a healthier and continually caring 2021."
Recommended age: 14+
2021-12-10 19:30:00 2021-12-10 22:30:00 Europe/London Rick Wakeman The Not Quite As Grumpy As Last Xmas Tour Cadogan Hall or one of the supported venues. Please contact the box office for more details.
Future events in this series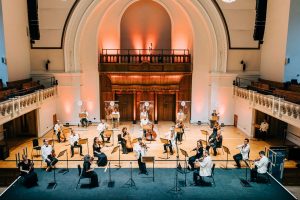 Back to Live
We are thrilled to have reopened our doors again for performances of musical theatre, orchestral and choral music, opera, pop, jazz and more, reuniting live music with audiences in our safe, secure and comfortable auditorium.
Read more about this series