Programme
George Walker Lyric for Strings
Nielsen Little Suite for Strings, Op.1
Barber Adagio for Strings
Tchaikovsky Serenade for Strings, Op.48
Performers
Strings of the Royal Philharmonic Orchestra
Duncan Riddell director
In light of current restrictions, we have sadly had to cancel the 'RPO Spotlight Series: Strings' concert on Wednesday 11 November.
We are doing our utmost to support the national effort in reducing the spread of coronavirus and the health and well-being of all our visitors, staff members and visiting performers is our number one priority.
Ticket holders are fully covered for the full value of their tickets and will be contacted shortly. Alternatively, our box office remains open (Monday – Friday, 10am to 3pm) on 020 7730 4500 and a member of our team will be available to you.
Thank you for your continued support and we look forward to welcoming you on future occasions.
The RPO was able to record Tchaikovsky's Serenade for Strings at the Hall, 'behind closed doors'. You can watch the online premiere of that piece on Thursday 26 November at 4pm below. 
---
The Royal Philharmonic Orchestra (RPO) is excited to be returning to its home ground for a series of lunchtime concerts that will shine a spotlight on the different sections of the Orchestra.
Introduced from the stage, today's informal 75-minute performance concludes the Spotlight Series. The concert will showcase the luscious sounds of a full string orchestra. Pulitzer Prize-winning African-American composer George Walker's moving Lyric for Strings, originally entitled 'Lament', precedes Nielsen's elegiac Little Suite, an early work that announced the talents of the great Danish composer. The second half of the programme features two ever-popular works – Barber's timeless, stirring Adagio for Strings and Tchaikovsky's Serenade for Strings, a work inspired by Mozart and described by the composer as written 'from the heart'.
Thank you to the Cadogan Estate (the owners of Cadogan Hall) for their generous support which made this concert possible.
Duration: approx. 75 mins
Ticket Information
All orders are subject to a transaction fee, except if made in person. See booking information for details, payment methods and delivery options.
This event has passed.
View Seating Plan
RPO Spotlight: Strings - online premiere
Your Safety
Our number one priority is the health and wellbeing of our visitors and staff. We're following the official government guidance on working safely during coronavirus to make sure we're COVID-secure.
Most importantly we ask that you stay at home if you have had any symptoms of illness such as a cough, sore throat, or fever (or have been in contact with someone with these symptoms) in the 14 days before attending an event at Cadogan Hall. If you have any questions, you can call our box office on 020 7730 4500 or complete our Contact Us form.
Find out more about the measures that we have introduced to keep our visitors, artists and staff safe here.
Read more >
Future events in this series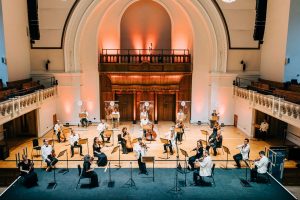 Back to Live
We are back! Our doors are open to audiences this winter for socially-distanced performances including the Royal Philharmonic Orchestra, The Mozartists, The Sixteen and the English Chamber Orchestra.
Read more about this series