Programme
Mozart Symphony in F major, K.75
Mysliveček Aria, 'Non ti chieggo amor' from Adamo ed Eva
C.P.E. Bach Harpsichord Concerto in C minor, Wq.43/4
Salieri Scena, 'E non degg'io seguirla… Lungi da te' from Armida
Haydn Symphony No. 44 in E minor, 'Trauer'
Performers
Kitty Whately mezzo-soprano
Steven Devine harpsichord
The Mozartists
Ian Page conductor
Ian Page's visionary MOZART 250 series continues to build a widespread and highly enthusiastic following.
The first of The Mozartists' concerts since lockdown is a diverse and illuminating overview of the musical year 1771, featuring an exquisite selection of works that were composed and premiered 250 years ago. These include an un-numbered Mozart symphony, beautiful vocal rarities by Mysliveček and Salieri and an astonishingly original concerto by C.P.E. Bach, and the programme culminates with Haydn's magnificent 'Trauer' symphony, whose elegiac slow movement the composer was said to have wanted to be performed at his funeral.
The soloists are former BBC New Generation Artist Kitty Whately and acclaimed harpsichordist Steven Devine, and Ian Page conducts his outstanding period-instrument orchestra.
18:15: Pre-concert talk
(in the auditorium, approx. 30 mins)
Recommended age: 7+
Duration: approx. 75 mins
2021-07-08 19:30:00 2021-07-08 20:45:00 Europe/London The Mozartists 1771 – A Retrospective Cadogan Hall or one of the supported venues. Please contact the box office for more details.
Future events in this series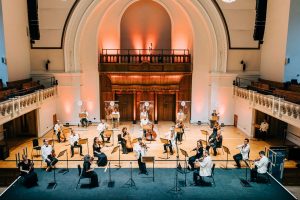 Back to Live
We'll be opening our doors again to audiences this spring for socially-distanced performances of musical theatre, orchestral and choral music, opera, pop, jazz and more.
Read more about this series