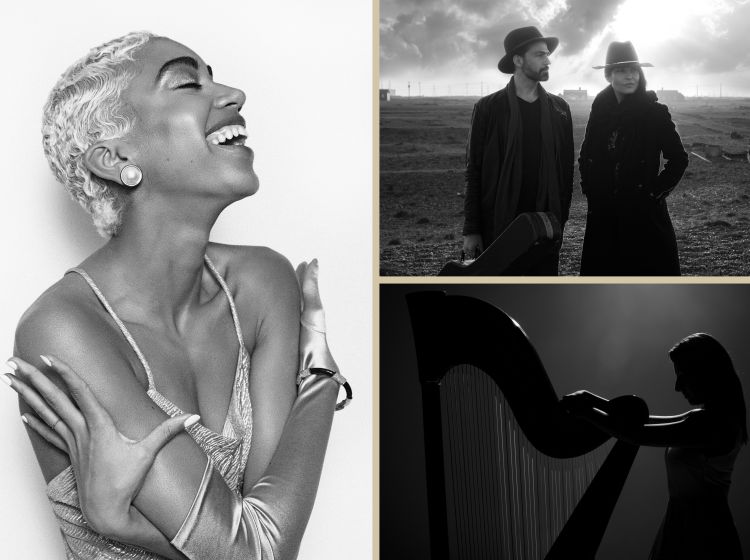 Hampstead Jazz Club presents: An Evening of Exclusive Performances
Performers
Judi Jackson
With opening:
Jo Harrop and Jamie McCredie – "Weathering The Storm"
Tara Minton – "Please Do Not Ignore The Mermaid"
Hosted by Nigel Williams, Jazz FM
Hampstead Jazz Club, in association with Serious, EFG London Jazz Festival, and Jazz FM, proudly presents an evening of exclusive performances, streamed live from Cadogan Hall in front of an audience.
This show will be one of the highlights of the EFG London Jazz Festival and is part of the EFG Elements Series, an outstanding and eclectic collection of shows.
Judi Jackson
Judi Jackson invites you to a masquerade evening, come dressed for a special evening of outstanding live performances in your masks…
Born in Roanoke, Virginia and now based in London, singer-songwriter Judi Jackson's potent cocktail of neo-soul and jazz has won her a raft of rapturous reviews and an ever-growing fanbase. The Jazz FM 'Vocalist of the Year' winner will be performing some of her favourite jazz and soul numbers alongside new songs from her next release due in 2021.
Jo Harrop and Jamie McCredie
'"Jo Harrop is a very very fine jazz singer." – Iggy Pop, BBC 6 Music
Effortlessly blurring the lines between jazz and folk, Jo Harrop and guitarist Jamie McCredie have just released their studio debut, Weathering The Storm, which The Guardian dubbed "a little gem of an album; simple, modest and perfect." An intimate, achingly beautiful record, Weathering The Storm has an ageless, ineffably moving quality that is pure and true and as rare as hen's teeth.
Tara Minton
Having cut her teeth working with everyone from Melbourne Opera to Björk, Australian-born singer and jazz harpist Tara Minton is the missing link between Dorothy Ashby and Joni Mitchell. She has just released Please Do Not Ignore The Mermaid, an astonishingly adventurous impressionist dreamscape that drifts seamlessly between jazz and contemporary classical.
Specially-created for EFG London Jazz Festival, this show will be one of the highlights of the festival.
Duration: 3 hours (including a 25 minute interval)

Part of the London Jazz Festival's EFG Elements Series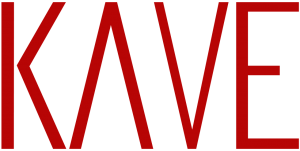 2020-11-21 19:00:00 2020-11-21 22:00:00 Europe/London Hampstead Jazz Club presents: An Evening of Exclusive Performances A socially distanced concert, with Judi Jackson, Jo Harrop & Jamie McCredie and Tara Minton Cadogan Hall or one of the supported venues. Please contact the box office for more details.
Ticket Information
£50 (VIP - premium seat price includes a glass of prosecco), £30, £20
Live Streaming Access Ticket - £5 (details of how to book below)
All orders are subject to a transaction fee. See booking information for details, payment methods and delivery options.
Book Now
View Seating Plan
Live Streaming Access Ticket
This event is available to be watched all over the world with a Live Streaming Access Ticket (£5).
Your Safety
Our number one priority is the health and wellbeing of our visitors and staff. We're following the official government guidance on working safely during coronavirus to make sure we're COVID-secure.
Most importantly we ask that you stay at home if you have had any symptoms of illness such as a cough, sore throat, or fever (or have been in contact with someone with these symptoms) in the 14 days before attending an event at Cadogan Hall. If you have any questions, you can call our box office on 020 7730 4500 or complete our Contact Us form.
Find out more about the measures that we have introduced to keep our visitors, artists and staff safe here.
Read more >
Future events in this series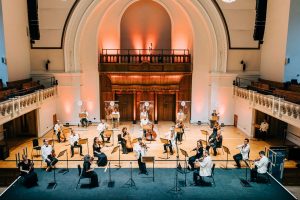 Back to Live
We are back! Our doors are open to audiences this autumn for socially-distanced performances featuring the Royal Philharmonic Orchestra, Donovan and the English Chamber Orchestra.
Read more about this series