Programme
Aria and ensembles from popular works by Verdi, Mozart, Bellini and Donizetti
Performers
Helena Dix soprano
Catherine Carby mezzo-soprano
Christopher Turner tenor
Julien Van Mellaerts baritone
Gary Matthewman conductor
Members of the Orchestra of Chelsea Opera Group
If you would like to join the waiting list for tickets for this event, please contact us using the online form or by calling the box office on 020 7730 4500.
---
A socially-distanced celebration of live opera works, carefully chosen to excite and satisfy once more after a long, arduous summer. Leading international star, Helena Dix, soprano, returns to the live stage with Chelsea Opera Group to sing favourites to a social-distanced audience in the Hall. Also making a repeat appearance with Chelsea Opera Group, tenor Christopher Turner, and mezzo-soprano Catherine Carby join her on stage. Completing the quartet will be baritone Julien Van Mellaerts in his first appearance for Chelsea Opera Group. This exciting event, carefully arranged to meet all current guidance to keep the audience safe and comfortable, is led by conductor Gary Matthewman and includes aria and ensembles from popular works by Verdi, Mozart, Bellini and Donizetti.
At last, in this carefully-managed evening, you can enjoy 90 minutes of real opera, performed live and safely, in your presence, by members of the Orchestra of Chelsea Opera Group with singers of international renown and success.
This event is socially distanced. Find out more >
Duration: approx. 1 hour 30 mins (no interval)
2020-11-08 17:00:00 2020-11-08 20:00:00 Europe/London Make Opera Live Again A socially distanced performance with Chelsea Opera Group Cadogan Hall or one of the supported venues. Please contact the box office for more details.
Ticket Information
All orders are subject to a transaction fee. See booking information for details, payment methods and delivery options.
Please note our box office is currently closed to in-person visits for the immediate future to support the measures put in place to manage the spread of coronovirus.
Sold Out
View Seating Plan
Your Safety
Our number one priority is the health and wellbeing of our visitors and staff. We're following the official government guidance on working safely during coronavirus to make sure we're COVID-secure.
Most importantly we ask that you stay at home if you have had any symptoms of illness such as a cough, sore throat, or fever (or have been in contact with someone with these symptoms) in the 14 days before attending an event at Cadogan Hall. If you have any questions, you can call our box office on 020 7730 4500 or complete our Contact Us form.
Find out more about the measures that we have introduced to keep our visitors, artists and staff safe.
Future events in this series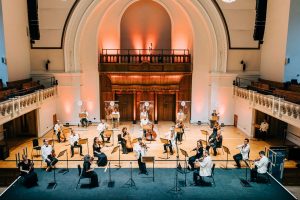 Back to Live
We are back! Our doors are open to audiences this autumn for socially-distanced performances featuring the Royal Philharmonic Orchestra, Donovan and the English Chamber Orchestra.
Read more about this series