Ralph McTell is touring his latest album Hill of Beans. Produced by the legendary Tony Visconti, it is Ralph's first album of original material for nine years. The performance will feature plenty of songs from his 50+ year career in addition to showcasing some of his most recent work.
A singer-songwriter of international acclaim who has played across the world, McTell brings his exquisite songwriting to life with virtuoso guitar picking and evocative stories. His spellbinding songs and wry humorous anecdotes take the audience from his buskers days in Paris to concert halls in Australia and America and through the Streets of London.
Recommended age: 7+
2021-09-19 19:00:00 2021-09-19 22:00:00 Europe/London Ralph McTell 'Hill of Beans' Cadogan Hall or one of the supported venues. Please contact the box office for more details.
Future events in this series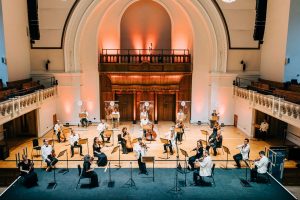 Back to Live
We are thrilled to have reopened our doors again for performances of musical theatre, orchestral and choral music, opera, pop, jazz and more, reuniting live music with audiences in our safe, secure and comfortable auditorium.
Read more about this series