Programme
Donizetti Sinfonia for Winds in G minor
Mozart Serenade No.12 in C minor, K.388
Valerie Coleman Umoja
Nielsen Wind Quintet, Op.43
Kovács Homage to Richard Strauss
Richard Strauss Serenade in E-flat major, Op.7
Performers
Wind Section of the Royal Philharmonic Orchestra
The Royal Philharmonic Orchestra (RPO) is excited to be returning to its home ground for a series of lunchtime concerts that will shine a spotlight on the different sections of the Orchestra.
Introduced from the stage, this informal 75-minute performance features the astounding wind players of the Royal Philharmonic Orchestra, with an exquisite selection of pieces. Mozart's popular Serenade No.12 showcases some of his most masterful writing, alongside Richard Strauss' own Serenade, prodigiously written when the composer was just seventeen. Lesser-known gems from Hungarian clarinettist Béla Kovács and Italian composer Gaetano Donizetti also feature alongside Nielsen's genial Wind Quintet, which highlights the expressiveness of each instrument, and Valerie Coleman's celebrated Umoja (Swahili for 'unity'), which combines elegant melodies with infectious rhythms.
Duration: approx. 75 mins
Ticket Information
All orders are subject to a transaction fee, except if made in person. See booking information for details, payment methods and delivery options.
This event has passed.
View Seating Plan
Your Safety
Our number one priority is the health and wellbeing of our visitors and staff. We're following the official government guidance on working safely during coronavirus to make sure we're COVID-secure.
Most importantly we ask that you stay at home if you have had any symptoms of illness such as a cough, sore throat, or fever (or have been in contact with someone with these symptoms) in the 14 days before attending an event at Cadogan Hall. If you have any questions, you can call our box office on 020 7730 4500 or complete our Contact Us form.
Find out more about the measures that we have introduced to keep our visitors, artists and staff safe here.
Read more >
Future events in this series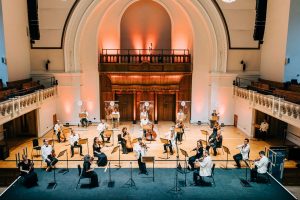 Back to Live
We are back! Our doors are open to audiences this winter for socially-distanced performances including the Royal Philharmonic Orchestra, The Mozartists, The Sixteen and the English Chamber Orchestra.
Read more about this series