Programme
Dvořák Wind Serenade
Mendelssohn Konzertstück No. 2*
Tailleferre Arabesque
Paul Harvey I Got Rhythm from Three Etudes on Themes of Gershwin
Valerie Coleman Red Clay and Mississippi Delta
R. Strauss Suite for Winds
(* change to previously advertised programme from Konzertstück No. 1)
Performers
Wind of the Royal Philharmonic Orchestra
In light of the coronavirus outbreak and current restrictions, this performance has been cancelled.
With full support from the Orchestra, we are doing our utmost to support the national effort in reducing the spread of coronavirus, and the health and well-being of all our visitors, staff members, and visiting performers is our number one priority.
Bookers will be refunded the full cost of tickets and any drinks vouchers to the card that they paid with. If you would prefer a Cadogan Hall credit voucher, please contact the Box Office on 020 7730 4500 (Monday to Friday 10am – 4pm) or via our online form as soon as possible.
---
The many different instruments of the wind section provide an enormous range of different sonorities, making for some glorious combinations in this delightful lunchtime performance.
Dvořák's Wind Serenade manages to sneak in a couple of string players to the ensemble and combines rustic folk elements with marches, dances and a sprightly finale.
Music from Mendelssohn and French composer Germaine Tailleferre shows off the clarinet's rich tones and wide range, alongside Paul Harvey's entrancing take on Gershwin's I Got Rhythm.
Valerie Coleman describes her wind quintet Red Clay and Mississippi Delta as merging 'classical technique and orchestration with the blues dialect and charm of the south' in a piece that is full of dazzling virtuosity.
Richard Strauss' Suite for Winds concludes the programme with writing that shows of the colours and textures of each instrument.
Duration: approx. 75 minutes (no interval)
2021-02-26 13:15:00 2021-02-26 14:30:00 Europe/London Royal Philharmonic Orchestra Spotlight Series: Wind Cadogan Hall or one of the supported venues. Please contact the box office for more details.
Ticket Information
All orders are subject to a transaction fee, except if made in person. See booking information for details, payment methods and delivery options.
Cancelled
View Seating Plan
Future events in this series
Royal Philharmonic Orchestra: Spotlight Series 2021
Back to Live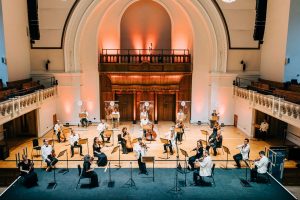 Back to Live
We are back! Our doors are open to audiences this winter for socially-distanced performances including the Royal Philharmonic Orchestra, The Mozartists, The Sixteen and the English Chamber Orchestra.
Read more about this series