Programme
A triple bill of traditional Irish music and song
Performers
Le Chéile
John and James Carty, with Jonas Fromseier
The London Lasses and Pete Quinn
A great gathering of some of the finest exponents of traditional Irish music, song and dance as part of London's 22nd annual Festival 'Return to London Town'. Featuring 6 piece bands: Le Chéile (formed in the heyday of Irish music in London during the 1970s) and The London Lasses and Pete Quinn, celebrating their 20th Anniversary year. We will also hear the album launch of The Wavy Bow by the internationally renowned father and son duo John and James Carty, with Jonas Fromseier.
This concert is presented by Irish Music and Dance in London (IMDL).
This is a socially distanced performance. Find out more >
Concert 7pm, doors from 5.30pm.
Information will be provided to bookers in a pre-performance email about staggered arrival times.
Duration: 2 hrs 30 mins (including two 30 minute intervals)
Your Safety
Our number one priority is the health and wellbeing of our visitors and staff. We're following the official government guidance on working safely during coronavirus to make sure we're COVID-secure.
Most importantly we ask that you stay at home if you have had any symptoms of illness such as a cough, sore throat, or fever (or have been in contact with someone with these symptoms) in the 14 days before attending an event at Cadogan Hall. If you have any questions, you can call our box office on 020 7730 4500 or complete our Contact Us form.
Find out more about the measures that we have introduced to keep our visitors, artists and staff safe here.
Read more >
Future events in this series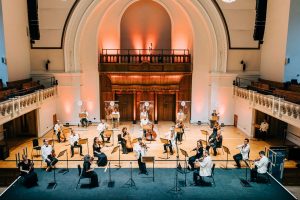 Back to Live
We are back! Our doors are open to audiences this winter for socially-distanced performances including the Royal Philharmonic Orchestra, The Mozartists, The Sixteen and the English Chamber Orchestra.
Read more about this series