Performers
Jay Rayner piano
Pat Gordon-Smith vocals
Dave Lewis saxophone
Robert Rickenberg bass
Peter Horsfall vocals/trumpet
Restaurant critic, Masterchef judge and long-time jazz pianist Jay Rayner launches his quartet's first live album A Night of Food and Agony, which brings together songs about food and drink and stories about his mother, agony aunt Claire Rayner.
In his quartet, there's a special chemistry between singer Pat Gordon-Smith and Jay, which isn't surprising – they're married to each other. This isn't nepotism, it's good fortune – she's been singing longer than Jay and studied with Liane Carroll. The band is completed by saxophonist Dave Lewis and the formidably inventive Robert Rickenberg on bass.
Join Jay for a night of food, agony, cracking stories and music that will nourish the soul – and get there early for a special set by Peter Horsfall, featured in Kansas Smitty's House Band, with what BBC Radio 3's Suzi Klein called 'a bittersweet beautiful voice and timeless trumpet'.
Ticket Information
All orders are subject to a transaction fee, except if made in person. See booking information for details, payment methods and delivery options.
This event has passed.
Future events in this series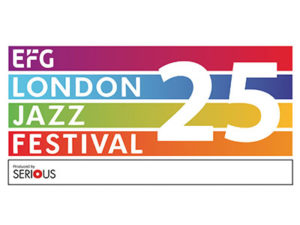 EFG London Jazz Festival 2017
'A dazzling display across the musical spectrum' ★★★★★ (The Guardian)
The EFG London Jazz Festival presents 10 days packed full of world-class artists and emerging stars as it celebrates 25 years in 2017. The Festival has a reputation for bringing the best and freshest music to a massive and ever-growing audience in various venues across the capital, with a wide-ranging programme of concerts, commissions, club events, talks, and an expansive learning and participation programme.
Read more about this series