Programme
Jessie Montgomery Starburst
Mendelssohn String Symphony No. 10
Grieg Holberg Suite
Elgar Sospiri
Britten Variations on a Theme of Frank Bridge
Performers
Strings of the Royal Philharmonic Orchestra
Duncan Riddell director/violin
The final concert in this spring Spotlight Series gives the strings of the Royal Philharmonic Orchestra their chance to shine with a selection of well-loved pieces.
American composer Jessie Montgomery's energetic Starburst combines fleeting melodies with exploding gestures and a variety of changing musical colours.
Mendelssohn's String Symphony No. 10 displays a touch of his sensitive style, while Grieg's popular Holberg Suite is supremely crafted based on 18th-century dance forms.
Elgar's moving and lyrical Sospiri (Italian for 'sighs') shows the composer at his best, and Britten's landmark theme and variations presents a musical portrait of his first composition teacher, Frank Bridge, based on a poignant melody by the elder composer.
Duration: approx. 75 minutes (no interval)
2021-03-17 13:15:00 2021-03-17 14:30:00 Europe/London Royal Philharmonic Orchestra Spotlight Series: Strings Cadogan Hall or one of the supported venues. Please contact the box office for more details.
Future events in this series
Royal Philharmonic Orchestra: Spotlight Series 2021
Back to Live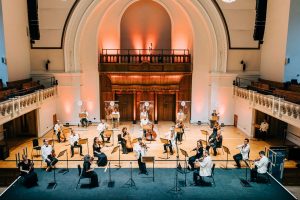 Back to Live
We are back! Our doors are open to audiences this winter for socially-distanced performances including the Royal Philharmonic Orchestra, The Mozartists, The Sixteen and the English Chamber Orchestra.
Read more about this series